Its one of the worlds worst kept secrets. Every year at the WWDC; Apples World Wide Developer Conference, they will show off the latest and greatest. Most years they have showed off software releases – usually updates to iOS and OSX as well as bumps to their notebook range and accessories, so it came as little surprise for developers turning up for this years keynote.
Before the event, there was hints and leaks about what was too come – software tags popping up in visitor logs for websites, inform leaks about the look and feel, as well as guesses based on Jonny Ive's take over of the 'direction' of the software visual cues.
A clear challenge that Apple faced was one faced by Microsoft; and mocked by Apple. Put simply, as software matures and more things become dependent on the specific layout, design and expected behaviour of the API set, it becomes harder and harder to move away and design something fresh. Microsoft showed this off badly with Windows 8; merging new components with the tried and tested desktop mentality. The other challenge is on the flip side, in that as software becomes more complex, it takes longer to make new features, thus to meet the expected yearly release target, Apple has to either push out a few small changes or increase the team size – which can only go so far. Microsoft was known for this in their Office suite of products, where people would complain that there was very little innovation between versions.
iOS7 – Designed by hippies
The older versions of iOS had become increasing bloated and frankly odd by use of pseudomorphism, which is the use of realistic patterns, textures or features in an artificial product. Take the calendar for example; this had a leather binder effect to simulate a desk calendar, or the Podcast app had a virtual record real. These became increasingly exotic and strange, and to some people not intuitive; I doubt many teenagers have actually seen a leather bound desk calender.
iOS7 under Johnny Ives direction has pushed away from this route to go down a more simplistic, flat route.
I'm all for this, but it was disconcerting hearing the Apple engineers on stage partly mock their own older design patterns.
This look now starts incroaching on Microsofts idealogy with Windows Phone – simplistic minimalism.
Microsoft had always gone down the route of flat design and removing unrequired animations and effects that detract from the user experience. The user should not be slowed down by pseudomorphism of the design. Apple has heeded this, but I do possibly here a lawsuit on the horizon.
The colour scheme of iOS7 seems pretty radical, or the use of transparencies over the top of the colour scheme. This creates a somewhat LSD trip for the end user.
When Microsoft Vista came out and touted its Aero 'Glass' interface, with the extensive use of transparencies to see whats underneath a window, people complained about the unneccessary use of resource and lack of design clarity – much heralded by Apple. A few years down the line and Apple is doing almost exactly the same.
In terms of features, there actually wasn't that many, this release was mainly a reskin, but for developers there is hope:
Apple Maps – iOS 7 will let developers include additional mapping features in apps, including 3D viewing experiences, direction related route information and map-based images.
iBeacons – Designed to use the Bluetooth Low Energy profile for microlocation, allowing iOS devices to use Bluetooth 4.0 devices to access location data.
AirDrop from Activity Sheet – Apps will be able to incorporate AirDrop support, giving users the ability to share photos, documents and more with friends from within an app.
MFi Game Controllers – iOS 7 includes support for MFi "Made for iPhone" Apple Certified hardware game controllers, which will allow manufacturers to create dedicated iOS gaming controllers, turning the iPhone and the iPad into gaming machines on par with handheld gaming systems. Apps will be able to be designed around the Game Controller framework, allowing for seamless connectivity. Apple's developer library detailing a reference design of both a standalone controller and an iPhone enclosure.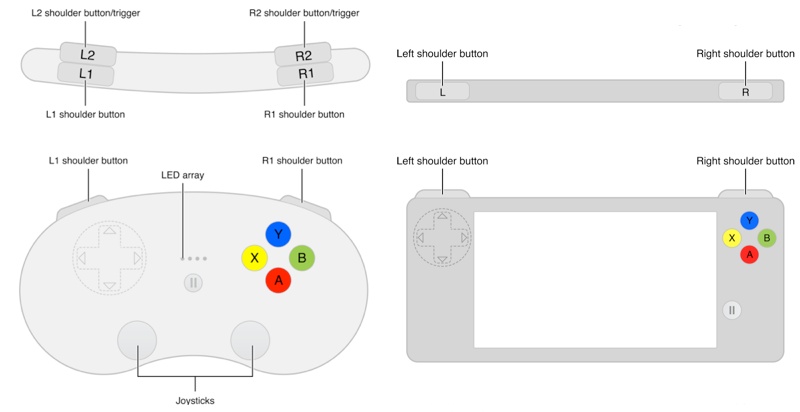 Sprite Kit – The Sprite Kit framework is designed to allow developers to create high-performing 2D games, controlling sprite attributes like position, size, rotation, gravity, and mass. It includes built-in support for physics to make animations look realistic and it also includes particle systems for additional game effects.
Game Center – iOS 7 adds new turn-based gaming modes (including simultaneous turns, chats, and trades) along with new methods for player authentication and secure game score transmission. This feature is likely designed to cut down on hacked Game Center scores from jailbroken devices.
Multitasking and Background Downloads – Apple's new multitasking APIs are designed to allow apps to update and download content in the background at intelligently scheduled times. For example, a Twitter app might incorporate this functionality, downloading new content in the background while the phone is not otherwise in use, staying up to date without unnecessarily draining battery. Push notifications can also initiate content downloads.
Inter-App Audio – With Inter-App Audio, apps are able to share audio streams with other apps, an API that will make it even easier to use Apple's iDevices to create music.
60-fps Video Capture – iOS 7 will allow apps to capture video at up to 60 frames per second.
Peer-to-Peer Connectivity – This data transmission API is designed to allow users to discover nearby devices and initiate direct communication without Internet connectivity.
Mavericks
When Microsoft Vista launched, everyone complained saying it felt half complete, which was partly true due to the restart in 2003-2004 after the failings of Longhorn. Vista had a lot of new features, some were really great; Shadow Copy, Display Window Manager, WDDM, but most seemed half implemented, or just there without real reason or just forgotten about e.g. Cardspace, Windows Extras.
OSX Mountain Lion although meant to be an entirely new OS, felt little more than a paid for service pack to OSX Lion. It had some new iOS inspired features but seemed rushed out the door and not thouroughly tested. OSX Mavericks seems to be the Windows 7 to Windows Vista, it appears Apple has heard the complaints, and made relevant adjustments.
For example:
Full screen apps under Mountain Lion would take up one full screen (all well so far) but then all other screens would be unusable – who the hell thought this would be a good idea??
Safari has been based on Webkit, however Google for many years has been the primarily contributer to the source tree. Google has now forked Webkit to Blink due to the architectural flaws of Webkit. Apple is now left to pick up the pieces and attempt to maintain track with the other browsers without Googles extensive input.
Apple is finally maturing
I have mentioned before that Apple seems to be entering its mid-life crisis point. Almost all of its products are mature, and people no longer want the unexpected. Apple is therefore being pushed down the route of doing minor incremental updates to its products.
Security was one of the terms that wasn't really mentioned much this year, this is where again I see Apple being hurt in a big way. Microsoft has had years of 'training by fire' with its OS to keep it secure for enterprises. Apple is only now having to do the same with OSX. Gone are the days when they could simply say 'OSX doesnt get viruses'
So what can Apple do? Make new products – if you can't alter your existing cash cows (iPhone, OSX), enter new markets (TV, Watches, In-Car systems etc.)